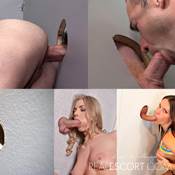 A glory hole (also spelled gloryhole and glory-hole) is a hole in a wall, for people to engage in sexual activity.

A hole located in a wall in which one's penis is inserted, thus separating the participants and ensuring anonymity throughout the sexual act.

Glory holes are especially associated with gay culture but can be used by everyone no matter their sexual orientation. Its most often used for anal or oral sex, but can also be used for other things like normal hetero sex.

Only your fantasy sets the borders for what a "gloryhole" can be used for.