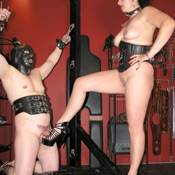 Also called dominatrix.
The Mistress will punish and teaches her slave to behave.

This can include..
-Whipping/Spanking
-Riding the slave like a pony
-Put leash and collar on the slave
-Humiliate
-Gag
-Make slaves lick boots
-Dress up slave like a maid,animal, etc.

Important!
Make sure to discuss beforehand what exactly you want, so you get a good experience.

This service may or may not include sex! So be sure to also discuss if this is a sexual activity or purely role playing you will be enjoying.