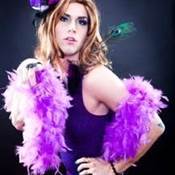 Crossdressing is when a person (most often a man) dresses in clothes of the opposite sex. Crossdressers are not the same as drag queens who are most often gay and are many times performers imitating famous women singers and Broadway stars. Very often, drag queens are almost a tongue-in-cheek caricature of biological women.

Most cross-dressers are ordinary men (husbands and fathers) that feel compelled to wear women's clothes, sometimes occasionally, rarely constantly. It's not an indication of homosexuality and in most cases not related to the person's sexuality at all. There are cross-dressers who get sexual kicks out of dressing (then masturbating in the clothes) and these often love wearing women's lingerie and tight, low cut clothing; sometimes they masturbate while looking at pictures of themselves dressed. This is NOT the average cross-dresser.


Offering that the client will be dressed up or will dress up for client.